I'm thrilled that so many judges and players in the DCC community continue to find great value in the free tools. Whether it's the character generators (29,500,000+ peasants created!), The Crawler's Companion dice-rolling and reference app, our custom spellbook utility, or one of the easy to use demon, dragon, or magic sword generators, each tool has been built with the simple purpose of making it easier for everyone to enjoy the Dungeon Crawl Classics Role-Playing Game!
---
Update #1: We've had a tremendous first day. We've cleared the basic maintanance goal and are working on the initial hardware goal. Thanks so much everyone!
---
Time Remaining in the 2022 Drive
($1000 Level 1 Maintenance Goal: Complete, Thank You!)
($1250 Level 2 Hardware Goal) 76% ($947)
Why We Have a Yearly Fundraiser
The tools are free, and will always be free. But there are a number of expenses associated with creating, maintaining, testing, publishing, and hosting the free tools, including server costs, development fees, the need for new hardware, mobile devices for testing, and various software expenses. These would be challenging for me to cover, but the incredible generosity that the DCC community demonstrates during our annual drives continues to meet all these needs, and more!
The specific funding and development goals for 2022 remain quite simple. In a nutshell, Level 1 (raising $1000) will cover basic server costs, development fees, and other expenses, Level 2 ($2250) will provide funds for needed hardware/device purchases (primarily a new iPad Pro which I use for most development tasks, since it is by far the easiest way to work with my nerve-rattled hands), Level 3 ($4000) will help purchase a more powerful m1 Mac. Funds beyond these levels will be used to continue to beef up the main server, pick up an Android testing device, and help me invest as much time as possible on the tools. :)
Giving
To participate in this year's drive, just click on the PayPal button below, and give in any amount you can. You can receive cool rewards! (To get your prizes just provide your preferences in the form at the bottom of the page.)
(As noted below, if you give $10 or more, but less than $40, let me know in the form at the bottom of the page which free adventure you'd like to receive! If you give $40 or more, you'll receive every current Purple Sorcerer title, and you'll be added to the Purple Sorcerer Patron page. If you already have a particular adventure, I'm happy to send codes to a friend's account.)
If you're going to receive a Special Treasure for being a top donor, I'll contact you requesting your list of top choices, as well as your address for mailing physical items. Unless otherwise noted, physical treasures are only available to pledgees in the United States, unless we work out special arrangements. Thanks to all of you who continue to support the free tools!
(To streamline things, I'll send out the adventure codes at the end of the drive in one rush. Thank you!)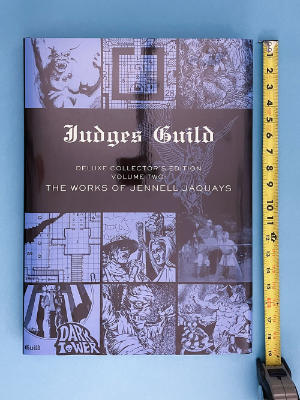 Prizes! Prizes! Prizes!
In addition to the amazingly generous folks who give to the drive, there are others in the community who provide stunning, often unique prizes. Many items in this pool of goodies are distributed randomly to lucky winners who donates $10 or more.
There are also special treasures that can be claimed by those who are especially generous. (The most generous backer has first choice in this pool, and so on).
The drive ends on July 16th at midnight. A few straggling donations always come in until the morning of the next day, so at that time the random prizes will be determined, and I'll begin contacting the most generous donors.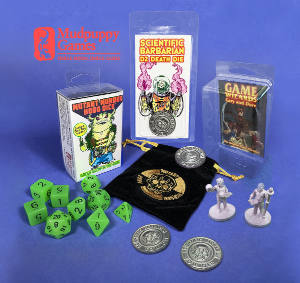 Special Treasures
The special treasures available to this year's most generous donors are, as usual, amazing! The list includes (with likely more to come):
The Dark Master himself and Goodman Games have provided a number of truly AMAZING prizes including:

Prize #1
Leatherbound edition of Judges Guild Deluxe Collector's Edition Volume 2: The Works of Jennell Jaquays
Prize #2
OAR #6: Temple of Elemental Evil
Prize #3
A vintage misprinted printed copy of DCC #1: Idylls of the Rat King. The inside cover was printed off-center so part of the map is cut off.
Prize #4
Lankhmar collection: The DCC Lankhmar boxed set, Greatest Thieves in Lankhmar boxed set, and an assortment of several individual Lankhmar adventures

The legendary Harley Stroh has offered his own pre-publication draft of Chessmen of the Purple Planet! Peer into the mind of the master as you read his personal draft of the adventure: Chessmen confronts 4th level characters with a Purple Planet adventure unlike any other. Travel back to a world of cruel pageantry, strange rituals, and deadly foes. Those clever and cunning enough to survive will have the chance to reshape the face of the Purple Planet. But those that fail will be found eons later, the bones bleached beneath the weirdling sun.
The ever-dependable lord of the Wastelands Jim Wampler and Mudpuppy Games have offered a a set of Game Wizards minis, MMH glow in the dark dice, and a D2 Death Die this year.
New! The ever-generous Keith Rosenberg has provided a bundle of print adventures, include a first printing of Beyond the Black Gate, along with copies of The Doom that Came to Christmas Town and Tomb of the Savage Kings!
A Purple Ticket! (With the Purple Ticket you receive PDF copies of all past and future Purple Sorcerer Adventures for as long as we're kicking! (Including early-release PDF's unavailable to the general public and at-cost print versions). For Kickstarted adventure titles, Purple Ticket holders receive the PDFs and discounts to upper pledge levels.)
Random Prizes
In addition to being in the pool to win a random prize, anyone whose donates $10 or more receives a free Purple Sorcerer Games adventure PDF of their choice for themselves or a friend (let me know your adventure choice and DriveThruRPG address in the form below!)
If you give $10 or more you're also in the running for one of the following random prizes:


One lucky donor will receive a Purple Ticket!
Three random supporters will receive the entire current lineup of Purple Sorcerer adventure PDFs!
Three lucky winners will recieve print copies of Enchiridion of the Computarchs provided by the stalwart James Pozenel!
New! Mike McKeown has donated a print copy of the classic Harley Stroh adventure Sailors on the Starless Sea!
New! The Unknowable OSR Ninja himself, Jürgen Meyer, has returned with another awesome 'Euro-Prize' for European backers only: both Anomalous Subsurface Environment books (ASE1 + ASE2-3)!

If you donate $40 or more you'll also:

Receive the complete library of PDF Purple Sorcerer Adventures, including our newest offering The Crypt in Cadaver Canyon and the Sullenlands Adventure Omnibus and Guide!
Be in the running to win a Purple Ticket!
2022 Development Goals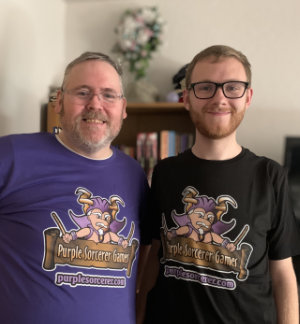 Development this year is going to continue to focus on long in the works projects. Since the HTML version of the Crawler is finally in the wild (HUZZAH!), the next targets are the Mutant Crawl Classics upper level character generator, MCC support in the new HTML Crawler, and additional language support in the 0-level generator. Of course, Dying Earth is out there along with a host of other smaller projects, so the endless parade of things I need to get to continues!
In previous years I've invited those who donated to provide a 'small upgrade' suggestion for the generators, and a number of the suggestions made their way into the tools. Features suggested by the community have included:
Creating 'leveled' character sheets for con play
Detecting shields in occupation goods, and incorporating them in the character sheet
Adding shields to the Upper Level Generator
Making it possible for zero level characters to begin with no items or weapons, so the PC's can begin as prisoners, etc.
Adding a 'Sanity" or "Fear" circle to a particular character sheet for campaigns with a sanity mechanic
Adding new dice-rolling methods
Everyone who donates to the pledge drive this year is encouraged to use the form below to send me a "small upgrade" suggestion as part of your pledge. I'll use this list as my to-do tickler when I'm in the mood to make small updates to one of the tools. So think about how you use the tools, and imagine what little enhancement might make your judging life easier. It can be for any of the existing tools: I'm eager to hear from the community to see if patterns emerge!
Your Info
Thank You
The incredible support of the DCC community makes this all possible. Thanks to each and every one of you who supports the free Purple Sorcerer Games tools!
Note: Since the DCC community is so dispersed nowadays, please share the drive in your favorite online haunts to get the word out, and if you'd like to donate something to the prize pool, please let me know: it would be most gratefully welcomed, as I would love to expand this year's pool of prizes!
The Tools in Action
It's always a thrill to see the tools at a table where everyone is having a great time. A few years back I whipped together a quick slideshow of images posted in the previous month to the DCC Rocks Facebook group, showing off the tools in action!
(If anyone needs an image removed, just let me know!)